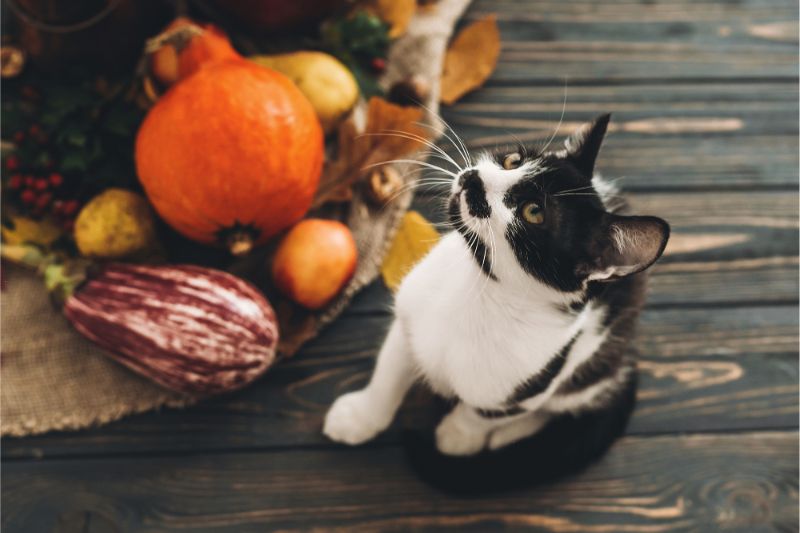 Of all the things most pet owners are grateful for this time of year, their pet's health typically ranks pretty high on the list. But keeping them safe, comfortable and healthy isn't always easy. With all the potential risks that face them, a few seasonal reminders sure do come in handy!

The concept of Thanksgiving pet safety may sound quite simple, but it's more than just keeping your pet out of the kitchen. Whether you're traveling or hosting this year, we hope that our tips keep your pet far away from harm.
Who Are You?
The holidays always present certain threats to animal welfare. Because many are rattled by strangers in the house or disruptions to their routines, pets respond to a fight-or-flight instinct.
Making sure that your pet is clearly identifiable with a brightly colored collar and ID tags is a must, but pet microchips are equally crucial in case of accidental separation.
Know the Score
If your pet is highly sociable, they may mix well with your company. However, provide a room away from the action if they show signs of stress or anxiety. Offer them extra exercise before and after the guests leave, and reward them with loads of affection.

Please consider boarding your pet with us if they aren't up for the occasion, and you'd rather not stress about their stress. It's one of the best things owners can do for Thanksgiving pet safety.
On the Road
Sure, many animals enjoy traveling, but without an eye on their safety and wellbeing, it can present certain risks. If you have questions about traveling with your pet, such as what documentation is required, please let us know. A pre-travel wellness exam can take care of the necessary vaccinations and parasite prevention.
Thanksgiving Pet Safety
Of course, the very things that make the holiday special are the ones that present hazards to our best friends. For an event that's all about eating and drinking, pet owners have to think about controlling their pet's appetite.

They can enjoy some of the same menu items, like green beans, unsweetened cranberry sauce, and plain steamed sweet potato. Create a plate just for them complete with a bite or two of cooked white meat turkey. However, because of the risks of pancreatitis or
pet poisonings, the following Thanksgiving foods should never be offered or made accidentally available to pets:

Bones
Turkey skin
Dark meat
Gravy
Baked goods containing Xylitol
Grapes/raisins
Onions, leeks, garlic or scallions
Macadamia nuts
Caffeine
Alcohol
Uncooked yeast dough
Likewise, holiday decor lie lit candles, liquid potpourri, and more can be just as hazardous as toxic plant centerieces or cut flowers, such as lilies.
Safe & Sound at Home
Our veterinarians and staff members extend our best wishes to your and your pet this fall. To that end, we hope that our Thanksgiving pet safety tips help to prevent a pet emergency. Please contact us with additional questions or concerns. We're always here for you at Clairmont Animal Hospital.