×
Now Hiring!
Seeking Associate Veterinarians and Support Team Members.
Visit our Careers page to apply! 
For over 30 years, Clairmont Animal Hospital has been providing full-service, high-quality veterinary care for dogs and cats in Decatur, Georgia. We are accredited by the American Animal Hospital Association (AAHA®), and our highly trained veterinarians and staff are available seven days a week to offer expert veterinary care, medicine, and comprehensive services that you and your pet can rely on. Together, we will work with you to ensure your pet receives the best care possible.
AAHA® Accredited
Clairmont Animal Hospital voluntarily belongs to the American Animal Hospital Association (AAHA®), an organization that sets the highest standards in the world for premier veterinary care. As a condition of membership, we routinely submit to frequent and thorough inspections of our facility, equipment, and record-keeping capabilities. We constantly modernize our laboratory, x-ray, medical, and surgical departments, as well as subscribe to rigid nursing care and housekeeping requirements in order to maintain our status at AAHA®'s highest level.
Learn More
In the News
We're Hiring
We are hiring Veterinarians and support Team Members! We offer excellent benefits, discounts for your pet's services, competitive pay and much more!
We ask applicants to send a resume and cover letter of interest to clairmont@clairmontvets.com.
Donations
We are gratefully accepting donations of larger bath or beach towels and newspapers (we do not need smaller towels). Please deliver towel and newspaper donations to the front desk.
We recently passed our AAHA inspection!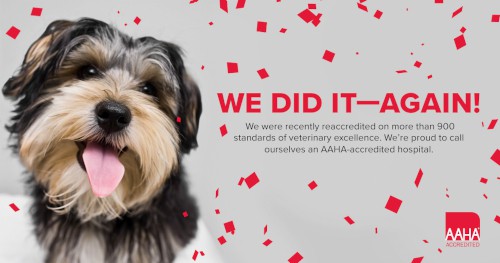 Our History
Clairmont Animal Hospital opened in August of 1990 when Dr. Smith and his wife, Denise, purchased the land and renovated the building which is now our hospital. The hospital's present location has a very interesting past. It was the home of a locally famous Medicine man, a Civil war encampment site, a 1929 private residence, an antique shop, and a backpacking outfitter.
Clairmont Animal Hospital was founded on the belief that if an environment was created that provided excellent veterinary care with personalized client service, it would flourish. Initially, Dr. Smith was the sole veterinarian on staff and had a support staff of only two. The rapid growth to our present size is due to many factors, including years of dedication, hard work and sacrifice, an excellent and committed staff, and referrals from our clients.
Clairmont Animal Hospital is a full-service hospital providing complete medical and surgical services as well as boarding and grooming facilities. Although our patients are primarily dogs and cats, Dr. Smith is also licensed to treat wildlife. We take pride in our professional veterinary staff as well as our experienced and dedicated team of support staff.
At Clairmont Animal Hospital, our primary focus is on providing quality veterinary care and personalized customer service. We are morally and ethically committed to fulfilling the needs of our clients and patients with scientifically progressive equipment and procedures in a professional and compassionate setting.