Veterinarians
Dr. Mike Smith
Dr. Mike Smith founded Clairmont Animal hospital in August of 1990. He is a graduate of Tulane University and University of Florida College of Veterinary Medicine.
Dr. Smith has spent 41 years practicing veterinary medicine in Florida and Georgia. His special areas of interest include soft tissue and orthopedic surgery, minimally invasive surgery (MIS) and laparoscopic surgery.
Dr. Smith is credentialed in TTA surgery, TPLO surgery, ALPS minimally invasive bone plating and numerous other procedures.
Dr. Smith is married to Denise Smith, a classically trained violinist and has a daughter Lexi who practices environmental law.
In his leisure time he enjoys woodworking, reading, fly fishing, watersports and spending time with his wife, golden retriever, Lake, two rescue cats, Chairman Meow and Woody, and four snakes.
Dr. George Parlavantzas
Dr. George Parlavantzas was born in the United States and raised in Cyprus. He is a graduate of Georgia Tech and the University of Georgia College of Veterinary Medicine. Dr. Parlavantzas practiced in an exclusive feline practice prior to joining our hospital. His areas of special interest are general medicine and surgery, feline practice, radiology, and dentistry. Dr. Parlavantzas has three cats: Charybdis, Scylla and Shira.
Dr. Kelly Bradley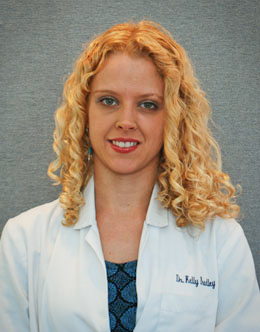 Dr. Kelly Bradley was born and raised in Manhattan, Kansas, and she graduated from the University of Georgia College of Veterinary Medicine. Dr. Bradley completed a small animal internship at the Animal Medical Center in New York City. She then stayed another year in New York, where she worked at Fifth Avenue Veterinary Specialists. Before joining Clairmont Animal Hospital in 2007, Dr. Bradley worked in emergency medicine at Cobb and Cherokee Emergency Clinics. Her professional interests include internal medicine, emergency medicine, and soft tissue surgery. Outside of work, Dr. Bradley enjoys exercising, cooking, and traveling. She and her husband, Dustin, have two little girls, a grey tabby cat named Daisy and rescue terrier named Lucy.
Dr. Lauren Adams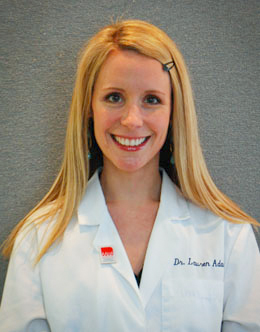 Dr. Lauren Adams grew up in rural Alabama. She is a 2004 graduate of Auburn University College of Veterinary Medicine and has been providing veterinary services to pets in the Atlanta area and around the globe ever since.
Dr. Adams' areas of interest include Feline Medicine and Behavior, Canine Medicine and Behavior, Geriatric Medicine, Complex Disease Management, Auto-Immune Disease, Renal Disease, Oncology, Dentistry, and Soft Tissue Surgery.
She often works with the Humane Society of the United States traveling to underserved rural areas in Appalachia, Native American Reservations, Micronesia, Nicaragua and many more, providing essential animal health services, such as sterilizations and vaccinations, as well as educational programs on a variety of topics including disease prevention and humane animal care.
In 2015 Dr. Adams led Clairmont Animal Hospital to become one of the first Gold Standard Feline Friendly Practices in the entire Southeast. That program's main goal is to recognize and reduce feline stress from the visit to the veterinarian, improve the quality of care provided, and support the veterinary team so that the entire staff has the knowledge and resources to understand cats' distinct needs and behaviors.
Dr. Adams is a Certified Fear Free Veterinary Professional. She strives to focus and educate her team members on the reduction or removal of anxiety triggers of both dogs and cats in the veterinary setting as well in their home environment. Dr. Adams's wholistic approach to her patient's emotional health allows for her, her staff, and pet parents to strengthen the bonds that we all share with our beloved animals.
These experiences along with being a mother of 2 children, (Ada 8 & Edan 5) lead Dr. Adams to expand her attention and outreach more locally into" Bite Prevention." She visits local schools educating teachers, parents, and children on how to positively and safely interact with pets by respecting their unique emotional needs and recognizing early signs of fear and anxiety.
While not practicing veterinary medicine, Dr. Adams enjoys spending time with her two children Ada-8 & Edan-5, her devoted husband Eric, their super cool dog -The Fabulous Mr. Fox, and their 5 – YES 5 cats; Rosie Revere, Lewis Clark, Ben Prranklin, Mama Cat, and Her Shyness. Other interests include-cooking, camping, gardening, making terrariums, fossil hunting, mushroom hunting, hiking, and really all things outdoorsy.
Specialists
Brandon Pogue, DVM, DACVIM (Cardiology)

Southeast Veterinary Cardiology
Dr. Pogue attended the University of Georgia College of Veterinary Medicine and received his DVM in 2008. He then went to Purdue University for a one year rotating small animal internship, followed by a three year cardiology residency at the University of Florida. In 2012, he became board-certified in cardiology through the American College of Veterinary Internal Medicine. His clinical interest is echocardiography, particularly of congenital disease and canine cardiomyopathies. Dr. Pogue has worked in the Atlanta area since 2012, and currently performs mobile cardiology consulting with primary veterinary clinics - helping veterinarians diagnose and manage heart disease in their patients. He lives in Alpharetta, GA with his wife (also a veterinarian) and 2 children.
Tasha Axam, DVM, DACVR (Radiologist)

Axam Imaging
Tasha is CEO of Axam Imaging, Inc and a board-certified radiologist who has practiced in the private sector of Decatur, Georgia for more than 13 years. In collaboration with veterinarians and practices across Metro Atlanta, Axam Imaging provides mobile ultrasound services. We also provide teleradiology services across the nation.
Dr. Axam graduated Duke University with a BS in Biological Anthropology and Anatomy and a BS in Psychology. She graduated with a Doctor of Veterinary Medicine from Tuskegee College of Veterinary Medicine. She's completed a rotating Small Animal Medicine and Surgery Internship at Purdue University College of Veterinary Medicine. She's also completed residency training in Diagnostic Imaging at the University of Georgia College of Veterinary Medicine.