After the age of seven, we consider all pets as seniors. At this stage of life, it is important that your dog or cat receive bi-annual exams including:
A full physical examination
Parasitic screening
Urinalysis
Vaccinations as needed
Common Senior Pet Health Issues
As your pet ages, there are common health issues he or she is likely to face, some of which include:
Arthritis
Changes in diets and eating habits
Hip dysplasia
Joint and bone problems
Early Detection Is Important
While totally eliminating these potential health threats is often not possible, early detection and treatment can improve your pet's chances of survival and extend his or her life expectancy. Familiarizing yourself with your pet's habits and patterns can help you recognize changes that are often signs of medical issues, such as:
Aggressive or withdrawn behavior
Changes in appetite
Dental and oral health issues
Obesity
Vision loss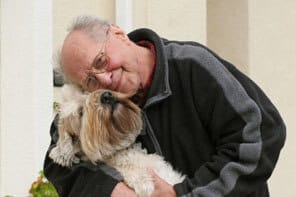 When it comes to protecting your senior pet's health, there is no substitute for bringing him or her in for bi-annual examinations. During this time, our veterinarians and staff will be able to carefully examine your pet and identify what may seem to be minor or insignificant changes that could actually signify a potential health risk.
Schedule your pet's senior care exam today. Our receptionists will be happy to assist you and answer any questions you may have.