Caring for your pet's teeth and gums is important to his or her health. According to the American Animal Hospital Association, more than 85% of dogs over four years of age have evidence of periodontal disease, making it one of the most commonly seen diseases by veterinarians.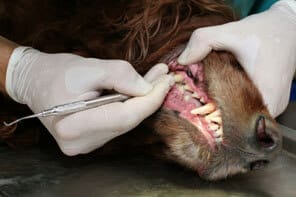 At Clairmont Animal Hospital, we offer dental cleaning and examinations as part of your pet's wellness care. We utilize the latest in veterinary technology, including digital radiology, to carefully examine your pet's oral and dental health and to provide proper treatment.
How Do I Know if My Dog Has Periodontal Disease?
While there is no substitute for regular dental exams performed by your veterinarian to determine if your pet has dental disease, here are a few common signs that your pet may be suffering from oral condition problems:
Bad breath
Loose or missing teeth
Signs of pain while chewing
Swelling of the face or mouth
Swollen and bleeding gums
If your pet is experiencing any of these symptoms, do not delay in seeking medical attention.
What Will Happen During My Pet's Dental Procedure?
Your pet's dental procedure will include:
A complete examination — Our veterinarians will carefully assess your pet's mouth, teeth, and gums.
Anesthesia — For the safety and comfort of your dog or cat, we provide anesthesia for all dental procedures performed by our trained staff. Our techs will monitor your pet throughout and after the surgical procedure to ensure his or her safe recovery.
Digital x-rays — These x-rays allow us to more easily detect and identify your pet's oral condition.
IV fluids — We will keep your pet hydrated and fluids balanced throughout his or her exam.
Recommendations on establishing an at-home dental care routine — Proper dental care begins at home, and we will help you establish a routine that works for you and your pet.