Fox 5 Atlanta's story on stem cell therapy highlighting Clairmont Animal Hospital and Dr. Mike Smith: See the Story
Stem cells are your pet's own natural healing cells that help regenerate injured tissues. These cells are capable of differentiating into a variety of tissue types, including tendon, ligament, bone, cartilage, smooth and cardiac muscle, liver, and others. Our veterinarians are able to harvest these adult stem cells from your pet's body fat. Once harvested, these fat cells are sent to a specialized lab in California where they are processed for stem cell treatment. Within 48 hours of collection, your pet's own regenerative stem cells are returned to us for immediate use for your pet.
Benefits of Stem Cell Therapy
VetStem Regenerative Cell therapy (VSRC) therapy produces more normal and complete healing because it aids the body's natural healing process. The use of VSRC therapy has been successful for osteoarthritis, as well as soft tissue orthopedic issues.
Dr. Smith is a credentialed veterinarian who is trained to collect and administer stem cell regenerative material to dogs and cats for the treatment of osteoarthritis.
To learn more about this advanced veterinary therapy, please visit Vet-Stem.
Laser Therapy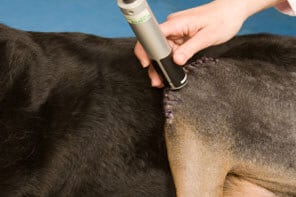 Our veterinarians now offer one of the latest technologies in health care for your pet. This FDA-approved, deep-penetrating treatment provides pain relief through the release of endorphins and stimulates the injured cells to heal at a faster rate.
Our companion therapy laser can be used for various disorders that respond to laser therapy, such as:
Arthritis
Cystitis
Degenerative joint disease
Hip dysplasia
Otitis
Stomatitis
Various skin conditions
Wound healing
To find out if your pet might benefit from laser therapy, please contact us or visit Companion Therapy's.